Residential steel buildings
Working in conjunction with main contractors, architects, structural engineers and the client we have manufactured and installed a large number of steel framed buildings and extensions for residential use. Clad and partitioned in any number of materials, wood, brick and glass being the most common.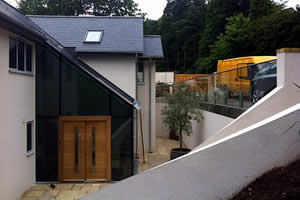 A steel framed extension to an existing brick structure. The objective was to create a unique light and airy entrance to the main building: Note how some of the original roof structure has been replaced with the glass that now forms part of the new extension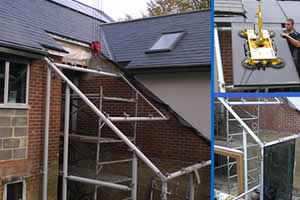 The steel frame has allowed the roof structure to be extended down to the lower level which has been clad with glass, along with a wooden frame and wood double doors fitted. The steel frame is ideal in this case providing a strong ridged framework.
Residential steel building project images
We are happy to taylor our service to fit your needs. Choose all or any of the services below to meet your own requirements, whether you're the home owner, builder or architect we can meet your requirements.
Design:
Regardless of if you need help with the broad picture or the fine detail, we can provide architects plans and drawings for planning submission, including engineers calculations where needed.
Planning:
If we are providing the design via our own architects we are happy to see you through the planning submission phase. We have a wealth of experience providing the plans, drawings and engineers calculations to the standard the planning office expect, thus providing you with a smooth trouble free start to your project.
Manufacture:
From your drawings or ours we manufacture everything to the highest of standards to guarantee you a quality finished product that meets your expectations.
Groundwork:
Using our own groundwork team and plant equipment we can prepare everything in readiness to accept your new steel building or steel framed extension.
Erect / Build:
Our own team erect / build.
Final fix / Finish:
Electrical, water, sanitation, decoration and Interior furnishings to the point where we hand over the keys and you take delivery with out any worries.